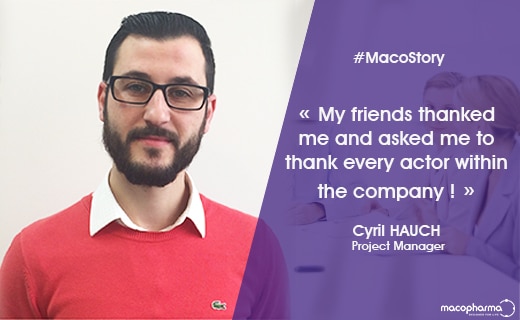 An employee wishes to deliver a message in order to sensitize us on the importance and quality of our products.
" One of my relatives has been transfused and infused following complications after giving birth. As a matter of fact, we sometimes think that things are not serious but more important care may occasionally be necessary! 
No one is stronger than disease but thanks to everyone's contribution we save lives. I experienced it as a patient but I daily experience it from a manufacturing point of view. I've been pleased with this happy ending.   
I'm happy to see how the rigor of manufacturing processes enables to create a reliable medical device.
Today, through this experience, I would like to tell you how proud I am to be part of a company which works for patients' care and recovery.
We don't always realize it but there is a kind of detachment from the product we daily work on, out of patient's context! However when someone close to us is in need, we instantly become aware of the importance of our work.
As a project manager, I bought some production equipment dedicated to manufacturing part or all of these devices. The whole daily enables to collect blood donations and save lives.  This is a small step in the process, everything is possible thanks to the actors within and outside the company: operators, production technicians but also from donors to patients.
We are all actors in Life! My friends thanked me, I would also like to thank you ALL without exception for your professionalism. Thanks for being there to ensure the quality of products we manufacture.   
The Baseline "Macopharma: Designed for Life!" makes full sense. "